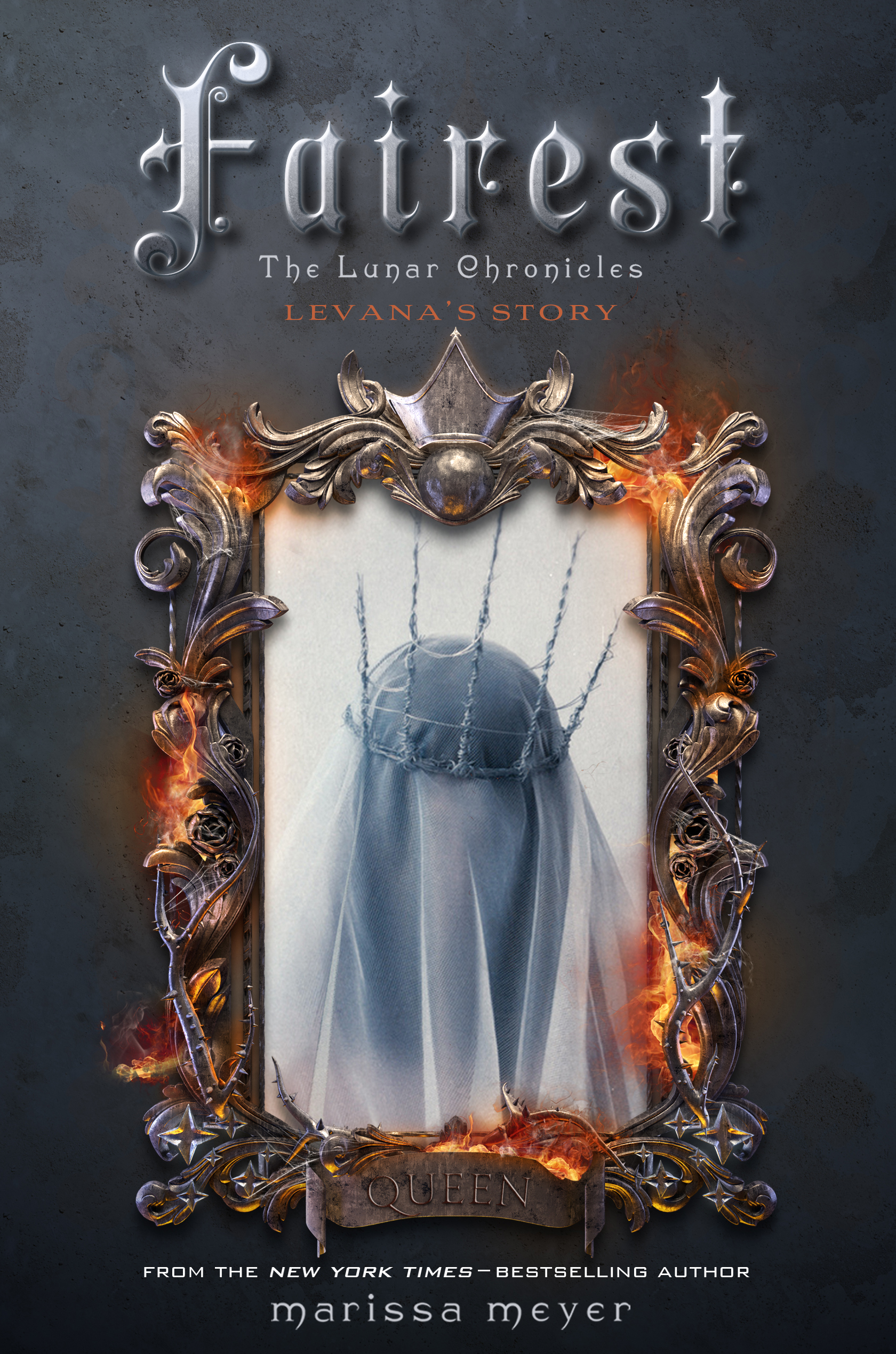 Title: Fairest
Author: Marrissa Meyer
Publisher: Fiewel and Fiends
Rating: 5/5
In this stunning bridge book between Cress and Winter in the bestselling Lunar Chronicles, Queen Levana's story is finally told.

Mirror, mirror on the wall,
Who is the fairest of them all?

Fans of the Lunar Chronicles know Queen Levana as a ruler who uses her "glamour" to gain power. But long before she crossed paths with Cinder, Scarlet, and Cress, Levana lived a very different story – a story that has never been told . . . until now.

Marissa Meyer spins yet another unforgettable tale about love and war, deceit and death.
I have a lot of feelings right now. That ending…
So this bo0k is a novella following Levana, the antagonist (that's as nice a term as I can put it), from the Lunar Chronicles. I read both Fairest and Winter at the same time (I'm currently reading Winter in physical form and listened to Fairest as an audiobook) and oh my god.
I'm not sure how much I can say without spoiling you. This book was so entertaining and insightful to read. It was dark, gripping, and I loved it so much. I loved reading about Levana's childhood, even though it gave me no sympathy towards her. Whoops, I still hate her.
This was a really fun (fun? I can't believe I'm saying that) little read and added a lot of color to Winter, which I'll probably finish within the next couple days.
If you loved the Lunar Chronicles or are about to start Winter, I 10/10 recommend.
SPOILERS: 
Well. I don't know where to start with this spoilery section, to be honest. There are so many things I wanted to discuss, but now I don't know which one to start with…
Ok, how about Channery. Umm. How evil must you be to FORCE (aka mind-control) your own sister into a fire?! That's so sick and oh my goodness. That part was insane and completely horrifying. The way many Lunars use their gift is absolutely despicable and the worst part is that Levana knows exactly how it feels to be manipulated and does it anyway. It made me so angry that despite her past Levana became almost just like her sister.
Her obsession with Evertt Hale was completely freaky if you ask me. My heart broke for Everett. The scene where Levana confronts Hale in the hospital after his wife died was awful. She was so awful and callous it was ridiculous. He had just lost his wife,  whom he loved very much, and Levana expected him to come running into her arms.
I did enjoy seeing Selene, Winter, and Jacin all grow up together; it was a very nice aspect and it kind of gave me more into what Winter and Jacin had gone through and their friendship.
The way Levana chose to "kill" Selene was absolutely the worst. Yes, it would be easy to make the nanny out as a scapegoat, but there were so many flaws in her plan, and they incidentally allowed for Selene to escape and become Linh Cinder.
Again, a phenomenal read and a nice addition to the series.